Caltech CMS-EE TechFest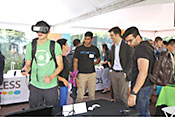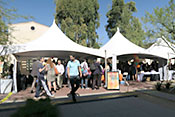 About
On the afternoon of Monday, October 14, 2019, CMS-EE Partners Program will host Techfest, a demo fair focused on providing startups, companies, students, postdocs, and faculty with a chance for meaningful interactions with each other. Our CMS-EE Partners Program members show off cutting-edge research, inspiring students with brand new technologies. Students will have the opportunity to learn about the breadth of applications for computing and mathematical sciences and electrical engineering across industries as well as network with company representatives in a casual atmosphere prior to Caltech's Fall Career Fair. Faculty will join, with the goal of strengthening academic-industry connections.
This event is exclusive to the Caltech and JPL Community and CMS-EE Partners Program members.
Schedule
3D Sensing Technology and Applications
Dr. Julie Eng, Executive Vice President and General Manager, 3D Sensing
Keynote, 12:00-1:00pm, Annenberg Center, Room 105 (Auditorium)
Julie Sheridan Eng is Executive Vice President and General Manager of 3D Sensing at Finisar Corporation, a global leader in fiber optics. She has held various senior management positions within Finisar's engineering organization since joining the company in 2003, most recently as EVP of Datacom Engineering. Prior to joining Finisar, Dr. Eng was part of AT&T/Lucent/Agere where she managed datacom transceivers. She holds a B.A. degree summa cum laude in Physics from Bryn Mawr College and a B.S. degree in Electrical Engineering with honors from the California Institute of Technology (Caltech). She earned M. S. and Ph.D. degrees in Electrical Engineering from Stanford University. She has published over a dozen papers and holds seven patents.
CMS-EE Partners Program Demo Fair
1-3:00pm Outdoors — Moore Walk north of Annenberg Center
FAQ
How do I sign up for Techfest?
CMS-EE Partners Program Members:
We hope to see all of our CMS-EE Partners Program company members at Techfest! The deadline to reserve a booth is Friday, October 4, 2019 or when we sell out. Reserve a booth. Booth guidelines.
Caltech Students, Postdocs, Staff, and Faculty:
No registration is required
for Caltech and JPL Community members to attend Techfest. We hope to see you there!
I am not a member of the Caltech Community or a Partner company representative. Is there a way for me to attend?
If you are considering joining the CMS Partners Program, we would love to chat with you. You can get in touch with us at at cmspartners-infocaltech.edu.