Caltech CMS TechFest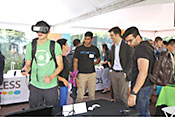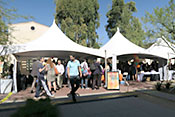 About
On the afternoon of Monday, October 15, 2018, CMS will host Techfest, a demo fair focused on providing startups, companies, students, postdocs, and faculty with a chance for meaningful interactions with each other. Our Partners Program company members will show off cutting-edge research, inspiring students with brand new technologies. Students will have the opportunity to learn about the breadth of applications for computing and mathematical sciences across industries as well as network with company representatives in a casual atmosphere prior to Caltech's Fall Career Fair. Faculty will join in as well, with the goal of strengthening academic-industry connections.
This event is exclusive to the Caltech Community and CMS Partners Program members.
Schedule
12:00-1:00 pm: Keynote Talk
Speaker: Jon Snoddy, R&D Studio Executive, Walt Disney Imagineering
Location: Annenberg Center, Room 105 (Auditorium)
Engineering Innovation
From immersive attractions to flying robots, Walt Disney Imagineering constantly pushes the envelope for transforming technology into experiences. Join Jon Snoddy, Senior Vice President of Research & Development, as he discusses how emerging advances in artificial intelligence, robotics, and more will drive the future of experiential entertainment.
Bio:
Jon Snoddy has lived on the leading edge of entertainment technology his entire career. Prior to heading up Research & Development for Walt Disney Imagineering, Jon worked at NPR and Lucasfilm, started his own companies, and pulled a previous stint at Imagineering developing ride concepts such as the Indiana Jones™ Adventure as well as founding the original Disney VR Studio.
Jon's work spans industries as well as continents. Starting off as a recording engineer for NPR, he went on to help launch the THX system at Lucasfilm, and install Captain EO Disneyland. As an entrepreneur, Jon spearheaded GameWorks LLC with DreamWorks, Sega, and Universal Studios. Additionally, he's led redevelopment projects like Centum City in Pusan, Korea; created a movie theater game business with TimePlay Entertainment; and enabled personalized video sharing with Big Stage Entertainment.
Jon is currently the SVP of Disney Research and Walt Disney Imagineering Research & Development Studio Executive. He oversees a cross-disciplinary group of scientists, artists and engineers inventing the future of entertainment. His teams work across robotics, AI, displays, visual computing, materials and interactive storytelling to create the next generation of Disney characters, rides, experiences and more.
1:00-3:00 pm: Demo Fair
Location: Outdoors — Moore Walk north of Annenberg Center
Stay tuned for more companies and organizations participating in the Demo Fair! We are adding them as they confirm!
Participating Companies and Organizations
FAQ
How do I sign up for Techfest?
CMS Partners Program Member Company Representatives:
We hope to see all of our CMS Partners Program company members at Techfest!
Advance reservations are required for all company booths. The deadline to reserve a booth is Monday, October 1, 2018.
Booth guidelines and reservation information are available here.
Company members who would prefer not to reserve a booth are still welcome to attend the event! Registration for attending company representatives is not required, but is requested for our planning purposes. Please contact us at cmspartners-info@caltech.edu to register to attend individually as a company representative, or to register on behalf of other representatives from your company.
CMS and Caltech Students, Postdocs, Staff, and Faculty:
No registration is required for CMS and broader Caltech Community members to attend Techfest. We hope to see you there!
I am not a member of the Caltech Community or a Partner company representative. Is there a way for me to attend?
If you are considering joining the CMS Partners Program, we would love to chat with you. You can get in touch with us at at cmspartners-infocaltech.edu.
All members, including individuals, are welcome at all Partners Program events. Information on joining the Program can be found here.